I've been with Partners in Performance since September 2014. My career journey so far has been quite varied - from sourcing, strategy and financial modelling to construction productivity and PMO/project recovery work. I'm based in Australia and have worked mainly out of capital cities across the country, but I've also had a stint in Port Pirie, a really small town in South Australia, something that was completely different to my usual experience!

New beginnings, new opportunities
Joining Partners in Performance gave me a fresh start. My background is in science, and before coming onboard, I was working in a very different field as a research scientist. I had completed an MBA with the intention to transition out of science and into a different career, and coming to work for Partners in Performance was an opportunity to do something new.
We get people from all sorts of backgrounds at Partners in Performance, but what we all have in common is a curiosity and a desire for variety. I never wanted to be doing the same things over and over, and that's what is so great about working here - the opportunity to experience different workplaces, cultures and parts of the business as part of my role. It keeps the work here interesting and enjoyable.
Michael with Skipp and the team in Perth
A work week that works for me
Over the past year, it became obvious I needed some sort of work flexibility to fit in better with my life. I started trialling a four-day work week in November 2017, working Monday through to Thursday. I have two children - a three year old and a six year old - so having this flexibility has really lightened the load for my family, and my parents who help with childcare throughout the week.
Having Friday out of the office has also allowed me to take care of all the 'life admin' that I would otherwise have to do on the weekend, leaving those days free for family time instead.
Achieving a good work-life balance and taking care of our children while remaining in consulting wouldn't have been possible without a flexible solution. The 4-day week has given me extra time for my family, while still enabling me to travel across Australia for new and interesting engagements. The opportunity to travel and see different businesses and places is part of what I love about my role at Partners in Performance, so it's been great to arrive at a solution that works.
The weekday office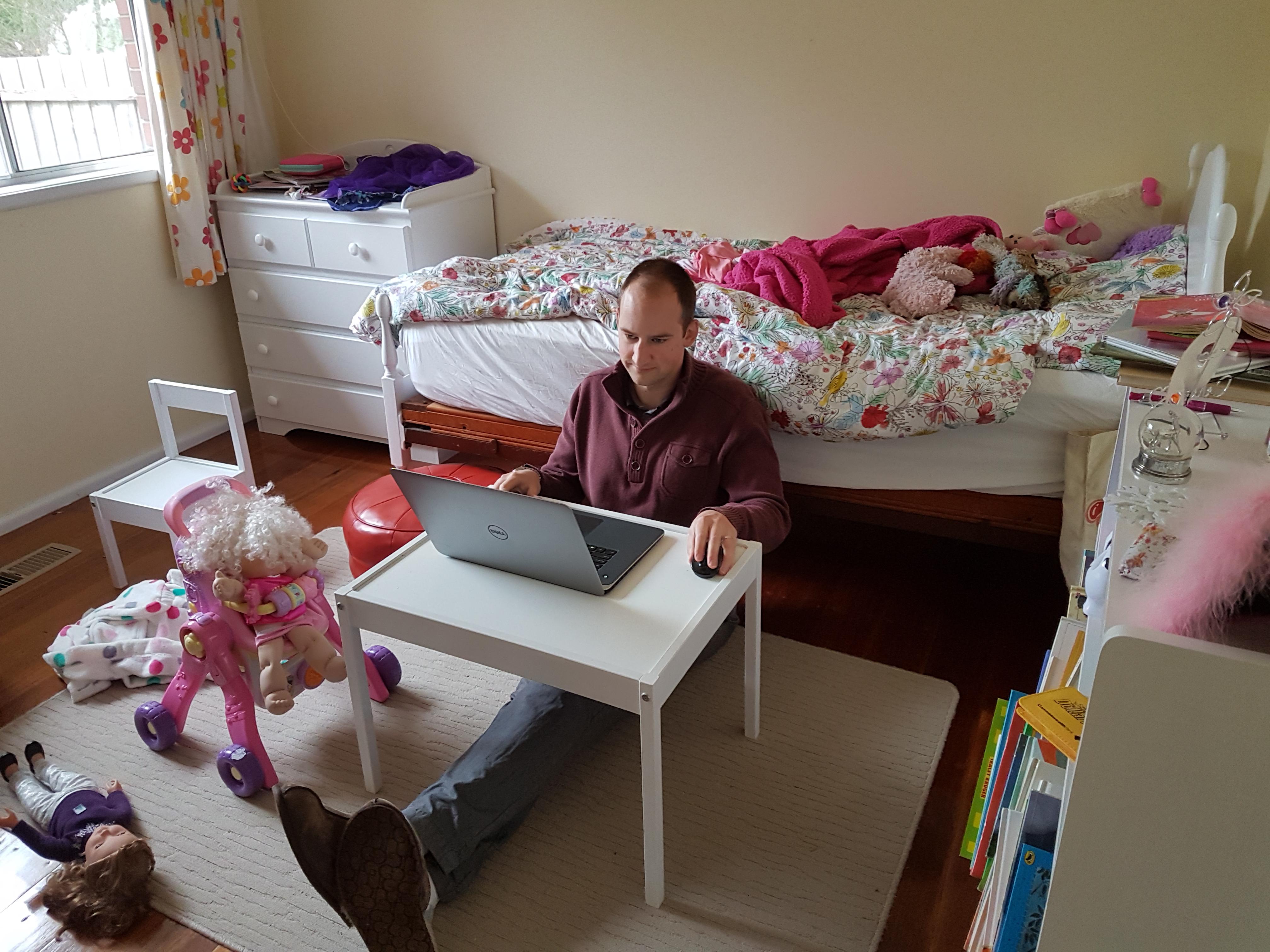 Michael's at-home office in his daughter's room
Design your own career
We didn't arrive to this solution overnight. In fact, we initially tried a solution where I was exclusively working in Melbourne. When it became apparent that this wasn't working for me or for Partners in Performance, the idea of a four-day week was proposed instead – which is working out a lot better for my family.
Someone at the firm once told me that you 'make it your own terms' here. What works for one person won't necessarily work for another, and the company understands that. Parthers in Performance does its best to make your personal goals work within the constraints of fulfilling your role, and they do a pretty good job of accommodating for your personal situation.
The key is, you have to be open about the particular issues you're facing in order to come to a solution that works for your work and life. I spoke to my development leader and had conversations with People & Culture before arriving at the four-day work week idea. It's important to remember that it's not a question of whether a solution already exists, but starting those discussions about what would work best for you.
People first
My favourite thing about the culture at Partners in Performance is that we're small enough to have a flexible workforce, but big enough to be relevant in our industry. While we're not a boutique firm, there is still that personal, human element that Partners in Performance has managed to maintain despite its size. In larger organisations, there's usually a written policy for everything, and if you can't find the policy, then it isn't possible. This company isn't like that - and that's what I love.
There are so many different experiences and options available so you can fulfil your goals, both personal and professional, which for me, means not having to choose between career and family. I really appreciate that the company has helped make that a reality.
The ANZ team at UP Day 2018