This crisis has brought into focus that our global supply chains are vulnerable. They were designed to be lean AND resilient, but no one imagined that we might have such a major global disruption which persists for such an extended period.
In an otherwise stable environment, dealing with minor Supply Chain failures does not endanger business continuity. In the context of a systemic shock where entire logistics lanes are effectively turned-off, many of your suppliers are circling financial ruin, and entire economies are shutting down, resolving Supply Chain issues requires a new set of solutions.
Unsurprisingly, when this pandemic struck, many companies formed crisis teams to transact in new and efficient ways: more planning, more proactive communications between business stakeholders and their Procurement and Supply Chain functions, and increased engagement throughout the entire value chain of most industries.
Interactions became more efficient
Internal interactions

Procurement and Supply Chain became genuine value focused and pragmatic business partners, rather than a bottleneck and compliance-based function that historically said 'no'. Consequently, internal customers of Procurement and Supply Chain reached out more pro-actively to resolve problems together.

Customers and supplier relationships

Critical customers were proactively approached and asked to share demand forecasts. Equally, suppliers received more frequent and reliable forecast updates than before – even though forecasting has not been easy in the last few months. This is not an unfamiliar problem, as suppliers often receive forecasts which vary from actuals by >300% and usually information doesn't get more accurate as the order date approaches.
The result: Supply Chain risk scenarios were run and actioned. Collaboration between Procurement and Supply Chain and internal stakeholders (in operations, R&D and marketing) reached an all-time high. The importance of making critical decisions rapidly was universally understood and supported as a team objective, as it became essential to the survival of the business.
Now that the initial crisis is slowly becoming the new-normal for most Procurement and Supply Chain functions, the leadership wants to sustain what their teams have accomplished. And, we believe it is possible to go even further: this is a rare opportunity to use what has been prototyped during COVID-19 and transform your Procurement and Supply Chain function into the permanent 'nerve centre' of your organisation.
Rethink and redesign your Procurement and Supply Chain function from the ground up
There are five broad activities that should be addressed:
1. Review and reset the strategic imperatives of the team: It is time for a holistic approach to commercial and social value optimisation. Often social targets are set at the top level of the organisation, but there tends to be a lack of specificity of how these social targets should be operationalised, especially as they start to compete with commercial targets. In practice this often means that commercial imperatives prevail by the time they reach the functional and business unit level. Shifting to a Total Value of Ownership approach combined with well-designed mechanisms to incorporate social objectives, helps align previously competing imperatives.
2. Streamline procedures and digitize processes: Use customer journey mapping to create a self-reinforcing Operating Model with 'pull' for the services of the Procurement and Supply Chain team. This Operating Model will also define how to smartly integrate sustainability and probity considerations. Furthermore, develop a fully integrated, value centric S&OP process that consistently engages internal stakeholders, suppliers and key customer advocates. Increased visibility, automation and flexibility will enable the team to be more efficient and focus on truly value-adding activities.
3. Update the organisational structure and reconsider employment models: Review your organisation structure with an eye on pragmatism , efficiency and customer service. Consider flexible/remote employment models to support your resilience and design the organisation so it can adequately meet its social agenda.
4. Accelerate the performance of the team: Focus on proactivity and accountability to deliver results not just within the function, but also through effective stakeholder engagement. Leverage agile for both local and remote teams. Lead by example on problem solving: pragmatic solutions and strong results focus. Consider investing in talent that is able to push the envelope and adopt innovative tools/approaches quickly.
5. Reset relationship with your key suppliers: Focus on holistic system inefficiencies.Introduce collaborative sourcing and relational contracting to unleash value through your Supplier Relationship Management programmes. Introduce and roll-out sustainability requirements into your supply chain.
Needless to say, there are other aspects that need to be addressed to achieve a continuously improving function (see below), but starting with these five activities you will be able to rewire your Procurement and Supply Chain function and embed a quantum leap in how you engage with internal stakeholders and suppliers. The dividends for creating this supply chain 'nerve center' will pay out for years to come.
Blueprint to 'future-proof' your Procurement and Supply Chain function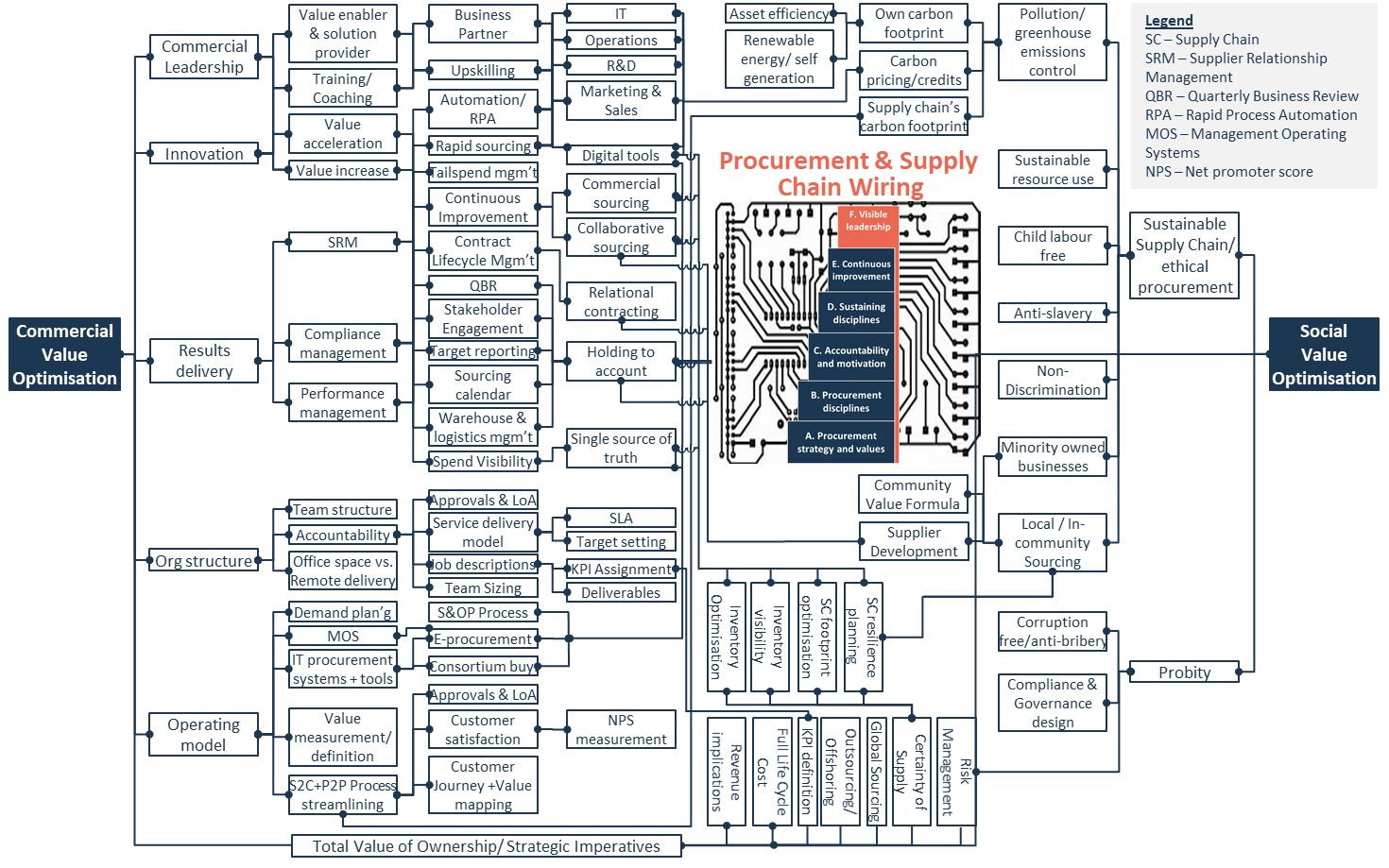 Not matter what your design choices might be, if you wish to transform your Procurement and Supply Chain function, you need to act now. Organisations will soon revert to their old habits, so the window of opportunity is finite – once old habits re-emerge, it will become much more difficult to achieve transformative change.